Power Arc's proprietary optical ignition systems offer extreme stability. A truly different product, you will notice a difference with this ignition. The stability of the ignition helps to increase engine life and acceleration. All ignitions are designed and manufactured in the U.S.A.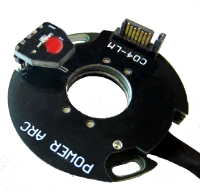 CD4-LM


Two ignition models are available CD2-LM & CD4-LM. The number represents how many coil cores the ignition is capable of driving. The ignitions have four timing maps. The module is extremely small and requires no external box or case see dimension drawing here. The ignition can be programmed for use on selected motorcycles including Harley Davidson (Single/Dual Fire), Honda, Kawasaki, Norton, Royal Enfield, Triumph & Ural. It can also be used on tractors, cars and other 1-8 cylinder engines. The CD2-LM and CD4-LM ignitions use interchangeable adapter plates allowing the ignition to fit almost any engine with an exposed cam or crank shaft.


Ignition Features
● No External module to mount
● Optical sensors used for extreme spark stability
● Multi-spark operation with up to three separate sparks
● Coil dwell can be set to different values at different RPM's
● LED static timing indicator
● Automatic coil shut off protects coils from over heating
● Coil output protection circuit
● Works with positive and negative ground systems
● Sensor input allows for four separate timing maps
● Precision stainless steel encoder/rotor can be mounted on either cam or crank shaft and can rotate clockwise or counter clockwise
● Tachometer output can be adjusted to work on almost any tachometer regardless of cylinder number
For more information on the CD2-LM ignition click
here
.
For more information on the CD4-LM ignition click
here
.
Various kits are available for purchase click
here
for information.

Ignition Coils


Power Arc has a full line of ignition coils designed to be compatible with different engine types and cylinder numbers. Both independent coils and coil packs are available. All coils feature:



● Zero current drain circuitry
● Built in current overload protection
● Integrated power/signal terminal strip
● Integrated internal coil driver
● Can be daisy chained
● Capable of 80,000 volts of output
● Fast rise times for high output in multi-spark
● Fires at low voltages for easier starting


Coil Packs Feature:



● Easy installation (only one coil pack per 4 or 6 cylinders)
● Integrated ignition map/curve select switch
● Integrated plug in connector strip


Click here for More information on coils.


Smart Point Modules
Smart Point Modules are designed to work with your existing points. They can be used with either the MC-1 or MC-2 coil. They can also be used in distributor based systems. Click here for the Smart Point owners manual.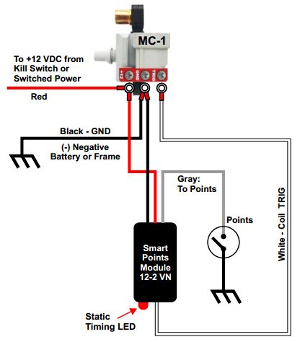 Features include:



● Snap action output which provides high output. Improves starting on all engines especially if kick started
● Automatic coil shutoff to prevent damage to the coil if the power is left on
● Points draw virtually no current so they will last longer and will not pit or burn
● Static timing light to allow for more precise and easier timing
● High energy coil

● 6 Volt and positive ground versions available




Click here to request a quote from out products page.

Power Arc also sells various accessories including spark plug wires. Click here to review on the products page.

Product Development
We are currently developing ignition systems for motorcycles, cars, tractors, military vehicles etc. Utilizing the IDS (Ignition Development System) we can rapidly produce custom ignitions and distributors at a low cost. Click here to see a description of the IDS product development. Click here to suggest a new product for development.


| | |
| --- | --- |
| IDS Development Software | |
| | | |
| --- | --- | --- |
| Power Arc Distributor | Power Arc Distributor with lid | Ignition Using OEM distributor |