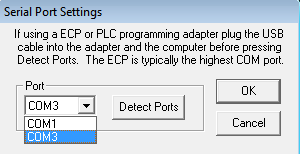 Before an ignition can be programmed the IDS application must be installed. D

ownload the appropriate version of the IDS setup file here

and install the IDS application. When prompted make sure to install the USB to serial driver software for the ECP adapter. You can now plug the USB cable into the ECP and the computer. Wait until the ECP USB serial adapter is recognized by the computer before starting the IDS application.

Important: Run the application as administrator or you might not be able to program the ignition.

Now go to the Config menu and choose Configure Serial Port. Press the Detect Ports button and pick the serial port that corresponds to the ECP adapter. This will typically be COM3. The ECP driver software defaults to COM3 unless some other device has already taken this port.

If there are multiple COM ports the highest port in the list is likely the ECP adapter. You may have to use trial and error or go to the Windows Device Manager - Ports (COM & LPT). The ECP adapter should show up as an USB Serial Port with the COM port number listed. If no serial ports are detected make sure the ECP adapter is plugged into a USB port in the computer and that the device drivers have been installed.